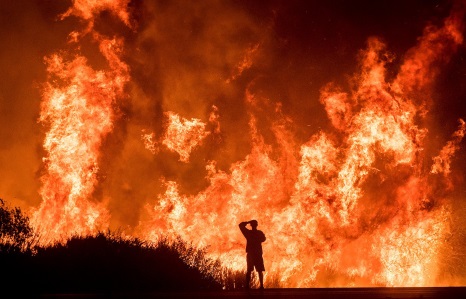 Lie:      God is mean.
Truth: Our heavenly Father is full of mercy and grace.
Although the world is full of suffering, it is also full of the overcoming of it. — Helen Keller
In this life we suffer, some much more than others, and honestly, at times it really does seem senseless. The young boy with leukemia with his bald head, smiling, pulling his IV pole along; the burn victims, inhumanely scarred; the sadness and chronic addiction of the American Indian tribes; the tornado victims, lost, searching for their keepsakes in the shambles of what was once their homes. I could go on; we all could. We're saddened for the suffering, but we quickly turn away. It simply is too painful to linger long.
No one disputes the fact of suffering — physical, emotional, mental. But what are we to do? How can we possibly explain it? We want to blame someone or something for it; it seems that someone really should pay for such apparently senseless pain. But we find few Hitlers. Yes, there are some monstrous souls who cause some of this pain, but much of it has no clear origin. And in the absence of a clear perpetrator, we quietly, under our breath, name this no-name entity to be: God.
We've all seen it, experienced it. We all know someone who's been hurt. Their lingering scars cause their heads, and ours, to droop. We feel their pains and take up their offenses. And since we can think of no other, God himself must be to blame, but we rarely find the courage to admit it.
Deeply we carry this festering wound around – this lie that God must be mean –unspoken and with an awkward shame. We cannot imagine any other answer. We don't know what to do with it; we don't know what to say to the walking wounded. So we too become wounded. Yet there is a reason to hope.
I admit that I have no simple answers to the problem of pain. Yes, as C S Lewis said, pain is God's megaphone and he uses it to train his children.[1] We learn more through our sufferings than anything else. But sometimes, as Job experienced, the amount of pain does not seem to possess any sense of proportion.
Paul certainly suffered more than most but at the same time declared:
The Spirit Himself bears witness with our spirit that we are children of God, and if children, then heirs—heirs of God and joint heirs with Christ, if indeed we suffer with Him, that we may also be glorified together. For I consider that the sufferings of this present time are not worthy to be compared with the glory which shall be revealed in us. — Romans 8:16–18
Paul suffered for righteousness' sake, and for the sake of Christ. This suffering, though surely difficult, was easier to bear because he knew it was not 'senseless.'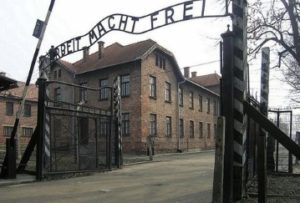 So what do we say to the silent accusation: God is mean? I don't think I could say it any better than John Lennox, the mathematician-philosopher, famous for his debates with Christopher Hitchens. In his book Gunning for God, Lennox recounts a story of his tour through a synagogue in Eastern Europe where an exhibition of a Nazi death camp had been built, showing pictures of the horrors of Dr Josef Mengele's experiments on children. Lennox had struck up a conversation with a women from South America whose relatives had perished in the Holocaust. They approached a mock-up of the main gate of Auschwitz and the woman moved ahead of Lennox and stood, blocking in the doorway, putting her arms to touch both sides of it. Here is a portion of Lennox' account:
'And what does your religion make of this?' — earlier she had discovered that I believed in God. She spoke loudly enough for several others to pause and look in our direction. What was I to say? What could I say? She had lost her parents and many relatives in the Holocaust. I had young children at the time and could scarcely bear to look at the Mengele photographs, because of the sheer horror of imagining my children suffering such a fate. I had nothing in my experience or in my family history that was remotely parallel to the horror that her family had endured. But still she stood in the doorway waiting for an answer. This is what I eventually said: 'I would not insult your memory of your parents by offering you simplistic answers to your question. What is more, I have young children and I cannot even bear to think how I might react if anything were to happen to them, even if it were far short of the evil that Mengele did. I have no easy answers; but I do have what, for me at least, is a doorway into an answer.'

'What is it?' she said.

'You know that I am a Christian. That means — and I know it is difficult for you to follow me here — that I believe that Yeshua is the messiah. I also believe that he was God incarnate, come into our world as savior, which is what his name 'Yeshua' means. Now I know that this is even more difficult for you to accept. Nevertheless, just think about this question – if Yeshua was really God, as I believe he was, what was God doing on a cross?

'Could it be that God begins just here to meet our heartbreaks, by demonstrating that he did not remain distant from our human suffering, but became part of it himself? For me, this is the beginning of hope; and it is a living hope that cannot be smashed by the enemy of death. The story does not end in the darkness of the cross. Yeshua conquered death. He rose from the dead; and one day, as the final judge, he will assess everything in absolute fairness, righteousness, and mercy.'

There was silence. She was still standing, arms outstretched, forming a motionless cross in the doorway. After a moment, with tears in her eyes, very quietly but audibly, she said: 'Why has no one ever told me that about my messiah before?'

There are no simplistic answers to the hard questions thrown up by human suffering. The answer that Christianity gives is not a set of propositions or a philosophical analysis of the possibilities – it is, rather, a Person who suffered.
God is not mean. He may appear to be now, but in the end, at the final judgment, Jesus the Messiah will judge the world and we will have the great honor to judge the angels, those who initially misled us to reject God, and who made the initial accusation that he is mean. He will finally put everything right and the evil will be judged and all will accept without argument that he is perfectly right and just. His faithful ones, those who still had hope and patience, will finally be vindicated, having every tear wiped away. We can barely imagine sitting with him and all the saints at the banquet table of the Lamb, eating and drinking our fill with unimaginable joy.
The truth is, the vast majority of our lives will be pain-free and whole. God's eternity is the great equalizer.
[1] Lewis, C S, The Four Loves.
See also the Introduction, Lies attacking the nature of God.